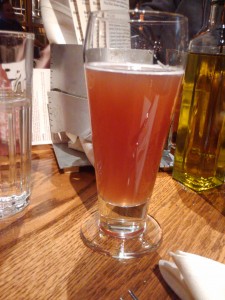 If you love good local microbrews, and you're in Anchorage, one necessary stop is the Glacier Brewhouse. It's downtown, and there can be a wait for a table. Bar seating is open though. It's a busy place with good food and better beer.  They have very good cream soda or lemonade for the kids and a great selection of on tap brews for the adults. You can buy them in half pint or full pint. I prefer half pints so I can sample a couple if I'm in the mood.
The photo above is the Raspberry Wheat. Now, I'll have to admit something, I tend to be suspicious of raspberry brews. Too many taste like beer coolers instead of like a beer made with raspberries. But I do trust the Glacier Brewhouse.
It's incredibly drinkable. Very smooth with tiny bubbles, it sparkles. The raspberry and wheat are well balanced to make a beer easy to drink and pairs very well with chicken or fish. It's not sugary sweet the way some fruit beers can be.  No bite to it, just a good, smooth beer.  Mike liked it, but the flavor was a little too light to be a favorite for him. I loved it, and it is one of my favorites. One that I would absolutely buy a growler of on growler Tuesdays there.
On Tuesdays, you can buy growlers of their craft beers for 5.00 and 10 dollars buys a growler of their specialty ales.  Affordable and Alaskan.
What their website says about it is
RASPBERRY WHEAT
An unfiltered wheat beer loaded with 210 pounds of real red raspberries. Tart and satiating, this beer is red in color and boasts fruity flavors of red raspberries. Low bitterness, refreshing, and smooth. Alcohol: 4.76% by volume. Starting gravity: 11.0 Plato (1.044 S.G.).